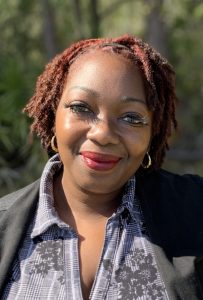 Yulee, FL – March 12, 2021 – The Arc of Nassau is pleased to announce the promotion of Shelly Parker, from within their organization. Parker has ascended to the role of Employment Services Manager, after a year of service as the Employment Services Specialist. Parker works under the umbrella of Nassau Works within the Arc Nassau, a division that provides supported employment and employments services to the intellectually and the developmentally disabled community.  
Parker came to the area after working within the rehabilitation services and criminal justice system of Georgia, with more than 13 years of service in those fields. Parker's previous position with Accountability Courts as a Treatment Provider, where she worked directly with individuals with a focus on rehabilitation, GED completion counseling and facilitated addiction classes for individuals with looming drug conviction charges.  
Parker, a Nassau county resident, is excited to continue developing relationships within the community that benefit participants with the Nassau Works program at the Arc Nassau. Parker is instrumental in placing persons with intellectual and developmental disabilities to work in the local community by calling upon businesses in our area to address their employment needs. She enjoys spending time with her son, traveling and painting with mixed medium.  
About the Arc Nassau 
The Arc Nassau is a non-profit organization that has been serving the intellectually and developmentally disabled community through their diverse programming for over 40 years. Programming for these clients consists of: day programming including life skills development, employment services, job coaching and on the job training.